Pyramids Solitaire HTML5 game. Play Tri-Pyramids online on PC, Mac, iPhone, Android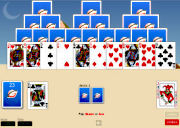 Pyramids Solitaire or Tri-Pyramids is a popular solitaire game, with elements of Pyramid Solitaire and Golf Solitaire scoring, now launched as an HTML5 game to play Pyramids free and money games and tournaments.
Introducing a new Pyramids Solitaire game - HTML5 game to play Tri-Pyramids Solitaire game on any computer, phone, tablet online. Use the same client to play Pyramids on PC Desktops, Apple computers, iPhone and iPad, on Android and Windows phones and tablets. With HTML5 technology you do not need to download and install any application on your phone, no installation required for your home computer as well to play Pyramids with other players - it is just a pure browser-based game. This new Tri-Pyramids client allows you to play the same games as before, to play for free or to play for money if you want, to participate Pyramids Solitaire tournaments, purchase playing tickets and to do everything as before on the java-based clients or on special iPhone or Android clients.
The object of Pyramids Solitaire is to move all the cards from the table to the discard, at the same time as maximizing your score. Open cards to drop must be 1 (one) value above or below the top card on the discard pile ignoring suits, for example 7 and 8 or King and Ace
To play Pyramids Solitaire press here
To read more about Pyramids Solitaire game press here
Thu, 15 Oct 2015 19:30:00 GMT